Werner Schulz-Mönkeberg's motifs
From realistic pictures, painted with loving attention to detail, to the fantastic own creations, inspired by light, romantic and dreamy or fully idiosyncratic - Werner Schulz-Mönkeberg's plants exhale an intense fragrance.
If you let them.
People as objects of study, as background and base of light and color experiments, or very emotionally perceived people - pride, grief, wisdom. Motifs which Werner Schulz-Mönkeberg has respectfully and cautiously treated.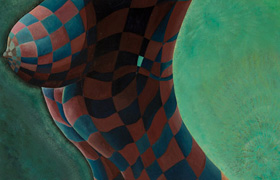 While in earlier years the artist concentrated on colour fish that were presented in even more magnificent colours, he later discovered the human aspects in many animals. They are portrayed as being wishful, eccentric or simply cheerful.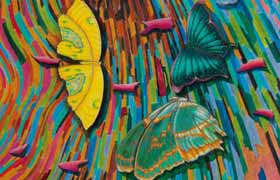 Werner Schulz-Mönkeberg paints what he has seen and how he has seen it. And what he has thought and dreamed, travelling back in his imagination. The landscape paintings vividly reflect the atmosphere that can arise from the smell, the noises and the wind in this part of the world.
Whether in Nuremberg or Jordan, whether a small town in its entirety or a detail of an archway ravaged by the weather - architecture always inspires Werner Schulz-Mönkeberg to new works. Rarely as a realistic portrayal, mostly as a colourful and lively interpretation.
Copyright © 2012 Werner Schulz-Mönkeberg.
Letzte Aktualisierung: 26.05.2014